Minimize Commercial Liability with Parking Lot Line Striping
Parking lot line striping refers to the practice of organizing traffic flow and parking opportunities on your property. Due to the level of accuracy and minimal room for error, it is a task best left to parking lot striping companies near me. But did you know that — in addition to aesthetics — there are plenty of other reasons to invest in new striping for your parking lot?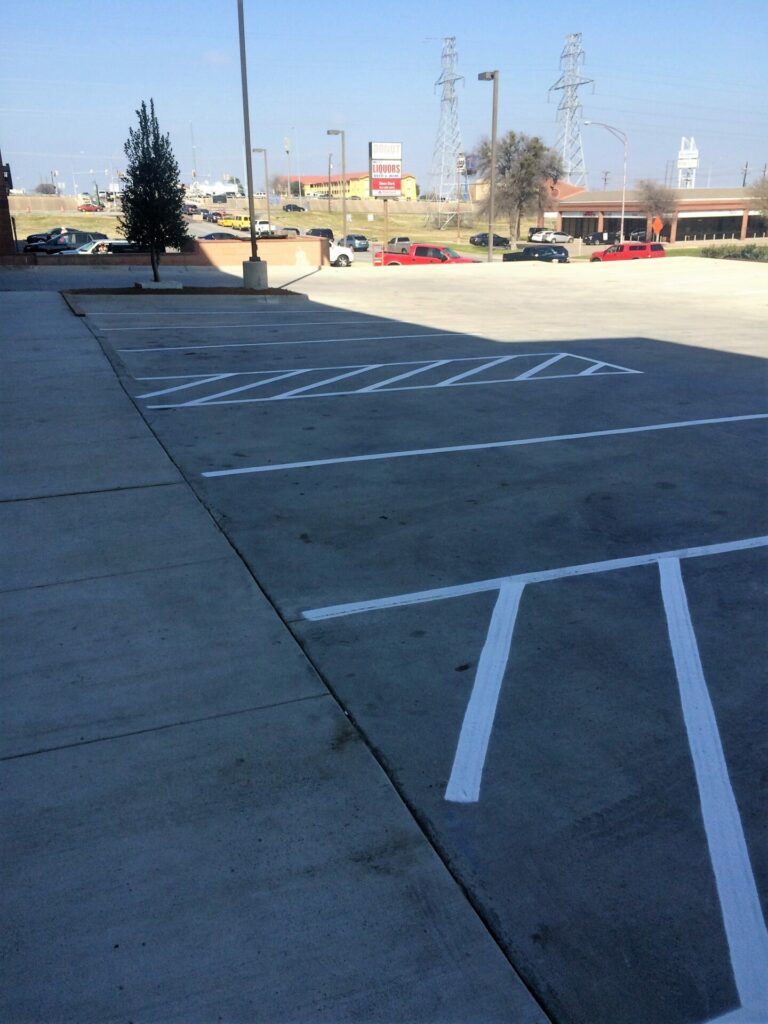 Parking Lot Striping Near Me Makes a Property ADA-Compliant
The Americans with Disabilities Act (ADA) governs the accessibility of public buildings for people with different ability levels. In the case of a parking lot, it allows for the clear marking of handicapped-accessible parking spaces. Parking lot striping dimensions are governed by the ADA and local codes, which means that a mistake here can cost you in fines and suits.
Fresh Parking Lot Stripes Improve Safety of Pedestrians and Motorists
If you have a large lot, the creation of one or more pedestrian crossings is essential for the safety of your customers. Failure to designate specific areas as crossings easily leads to accidents and near misses. Customers typically do not want to return to a venue where they do not feel safe.
In this case, parking lot line striping can make a significant difference.
Mark the flow of traffic.
Identify fire lanes and other no-parking areas.
Accommodate all types of customer vehicles from a Fiat to a Ford truck.
Prevent door dings and accidents while backing out.
How to Stripe a Parking Lot with Minimal Inconvenience to the Customer
To stripe a parking lot, specialists will first connect with you to determine the size of the project. Excellent parking lot striping companies provide you with a quote that breaks down the various steps of the process. Moreover, an expert will suggest that if you have a heavily damaged pavement it might be better to start with a repair.
Our parking lot striping company will assist you with the determination of how to make temporary changes to your parking setup. For large lots or multi-story parking structures, striping parking lots can take several days as customers navigate to alternative floors or areas of the property.
Next, we clean the lot. After all, you want the paint to adhere to the actual pavement and not dirt. We do this in advance. Finally, placing each parking lot stripe requires measurements and stenciling before painting. Once this process is done, you can reopen the lot as early as an hour later.
Is Alliance Pressure Washing and Striping the Family-Owned Parking Lot Striping Company Near Me?
Our firm specializes in working with clients throughout the North Texas area, which includes Dallas, Arlington, Fort Worth, Highland Park, and more. Contact us today to learn more about parking lot line striping!